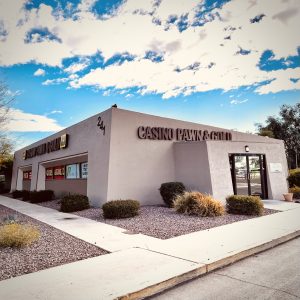 Here at Casino Pawn & Guns, we have new and used handguns, accessories and ammo for sale, 7 days a week.  In addition, our offers to buy (or pawn) firearms, et al., adds to our selection for sale on a daily basis.  These firearms are what we presently have for sale in our store and are readily available, and displayed on The Gun Wall.
The Gun Wall
Whether the firearms are antiques, rare finds, or recent releases, The Gun Wall is an impressive site.  Because you never know what you might find when you come on in and peruse our store.
Please note that all of the firearms that are displayed on our wall are for sale.  In addition, this page is updated on a regular basis.  Thereby adding the new and used guns received on a regular basis, and removing the images of firearms that are no longer available. 
**We do ask that if you see a firearm you want to buy on our page, please give us a call to confirm that it is in still in stock prior to arriving at our store.      
BRAND NEW