It is human instinct to enjoy weaponry since the beginning of time.  Although, they are not practical and viable to everyone.  That brought the need for airsoft guns to hit the global markets.     Some are used for tactical practices, playful activities and others to hunt small prey and rodents.  Whether it is a paintball gun or a pump-action BB gun, you can sell aerosol guns to us.  Casino Pawn & Guns offers the most cash for airsoft guns, guaranteed!
Sell Aerosol Guns of All Kinds and Makes to Us!
There is a variety of guns though that are non-powder guns, using other means to project its ammunition through a barrel.  Depending on the construct of the propulsion of the ammo, there are two categories they can fall under.  For instance, one is mechanical, which has a spring-loaded piston or a battery-powered gearbox, that builds air-pump pressure behind the projectile.  There is also pneumatic air-guns, which use prefilled bottled gas controlled by a valve to release the pellets or paintballs.  As a result, some of these toy weapons that are replications of other firearms.  Casino Pawn & Guns welcomes airsoft guns of all types.  Therefore here's a list of the most common brands and kinds brought in to sell to our store:
 Umarex AirSaber
.177 Crosman 1720T PCP Target Air Pistol
Hatsan PileDriver
Winchester Model 12 BB Gun
.20 Weihrauch HW80 Sir Rifle
.25 AirForce TalonP PCP Spin-Loc Tank Air Pistol
Tiberius Arms T15 Paintball Gun
Planet Eclipse MF100
Tippmann TiPX Trufeed Deluxe Pistol Kit
From Appraisal to Cash Offer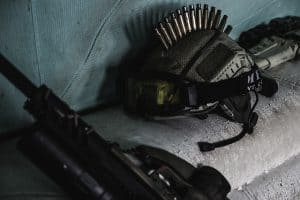 Our staff has the skills and experience necessary to give an accurate assessment to lead to the best cash offer around.  The appraisal will begin with us examining the exterior of the airsoft gun.  Because the first thing we all notice is the aesthetic appeal of valuables.  The associate will be looking to make sure there are no marks or scratches that will affect its selling value.  After that, our staff member will ensure that everything is in good working order.  In the end, we will refer to the fair market value of the pellet gun, according to condition, make and model, to properly calculate our cash offer.
Casino Pawn & Guns are happy to assess your valuables free of charge.  In addition, there is never any obligation to accept the offer we present to you.  Although we are quite confident that no one will surpass our cash offer,  and welcome you to get a second opinion.
Sell Aerosol Guns for Cash in Minutes
Upon accepting our cash offer, we will need your valid and current Arizona Driver's License and a few signatures to complete the sale.  After that, we will be counting out the cash to you and you will be on your way with the rest of your day.   From the start of the appraisal until you're walking out with cash in your hand can take as little as 10 minutes.
Click on the bottom right and you'll be connected with an associate via our live-chat.  You can get answers to your questions and start the paperwork on-line before you even arrive at our store.  In addition, the live-chat also lessens the time spent at our store to complete the transaction.
The Best Pawn Shop in Casa Grande!
To be considered the best, you must have a credible claim to that title.  Casino Pawn & Guns offers more ways to get the cash you need today than any of our competitors.  When it comes to sell or pawn aerosol guns and genuine firearms, we even accept accessories and the complete and full boxes of ammo to increase our cash offers.
In addition, we also can handle all of your FFL transfer needs for only $25 per transfer.
Looking to buy air guns, firearms and their accessories?  Please checkout what we have for sale on eBay.