Residents of Casa Grande and surrounding areas including Eloy, Coolidge, Chandler, Gilbert, Mesa, Tempe are welcome to explore the Casa Grande gun store with the largest selection located inside of Casino Pawn and Guns. While being in business for just 3 years, Casino Pawn and Guns has grown immensely thanks to our 10 locations across the valley. Not only do we sell firearms, but we buy and loan on them as well! No matter the condition, age, or type of firearm you have, you can be confident you'll get a great price.
Guns for Sale – Our Selection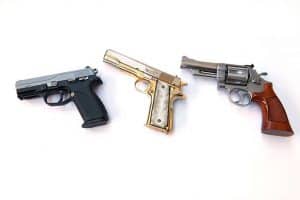 When it comes to guns, it's what we do best. We have one of the largest selections in the valley, with a guarantee that you will find what you're looking for. Whether you need a hunting rifle, shot gun, handgun, or semi-automatic we've got all of the best manufacturers. Below you'll find a list that includes the more popular brands we tend to carry. Ranging from mint to used, our firearms vary in condition. Which means you will always be able to find something that fits your budget.
Makes of Guns We Sell
Ruger – Browning – Winchester – Savage Arms – Ruger – Smith & Wesson – Remington Arms – SIG SAUER – Glock – Derringer – Mossberg – Franchi – And more!
We Buy Your Guns
Because we have such a vast inventory to keep up with, we are very active buyers of used and new firearms. It's a fairly simply process when it comes to selling your firearms.  It begins with an assessment of your gun.  First, we examine its physical appearance and check for any obvious wear and tear.  Because the aesthetics do hold a part of your guns value. After that, our associate will inspect the internal mechanics of the gun, to make sure it fires properly.  After that, the current market value is checked according to the make, model, year and accessories.  Finally, you will be presented with the best cash offer possible for your firearm.
*Our appraisals are free of charge, nor is there any obligation to accept our cash offer.
Finalizing the Sale
To finalize any sales or pawns for any items, including firearms, it is necessary for the customer to provide a valid Arizona ID or Driver's License.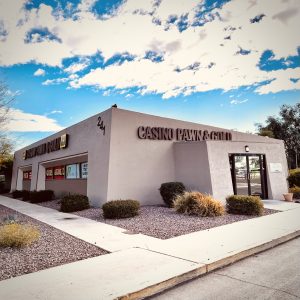 Likewise, we will need just a few signatures to complete the paperwork and finalize the sale.  After that, our associate will be counting out the agreed upon offer in cash.  The entire process can take be completed in as little as ten minutes.  Therefore, you can have a pocket full of cash and plenty of time to put that money towards its intended use.
Pawning Guns
Casino Pawn & Guns does offer pawn loans on guns, accessories and tactical gear as well.  Our pawn loans give you a 90 day period to satisfy the loan, utilizing your gun's value as security.  For the duration of the loan, your gun is kept safe in our locked vault until your return.  You can pay off the principal and interest at any time during the 90 days.  In addition, the sooner you pay it in full, the less out of pocket cost to you.  Because we pro-rate the interest accrued to date of payment.  The same day the loan is paid in full, we return your firearms back to you.  Pawn loans are hassle free from credit checks and waiting for approval.  Relieving financial stress immediately, and giving you time to find financial stability again.